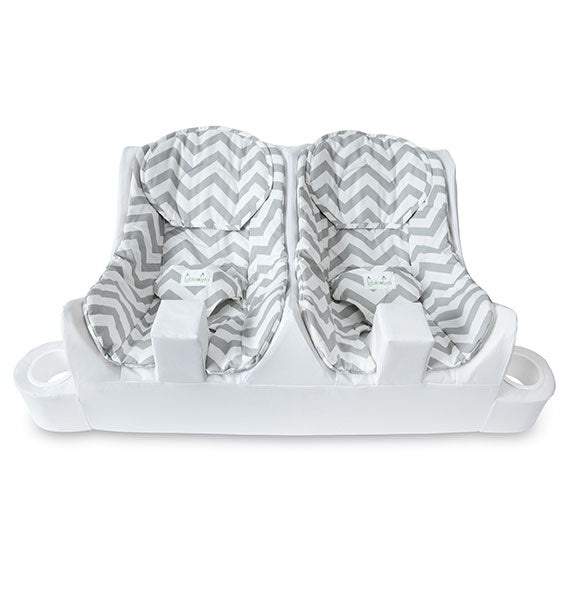 **ALL SAMPLES ARE BRAND NEW BUT HAVE VERY MINOR COSMETIC FLAWS. ALL SAMPLES ARE FINAL SALE. 
Table For Two is an innovative and patented product designed to easily bottle feed two infants at the same time. The main base is constructed of 100% high density polyeurethane foam, which is extremely sturdy and comfortable. There is a safety harness provided to securely buckle your infants in. The cover is made of 100% water resistant polyester so it can easily be wiped clean.
For added comfort and style, Table For Two comes with a set of decorative padded seat inserts and headrests with fabric of your choice. Simply velcro the inserts in and out, so you can easily toss them in the washing machine if they get dirty.
Table for Two also features a bottle holder on each side so you will never spill your milk or mix up your babies' bottles again! Table for Two also includes a convenient carrying handle, located on the back of the product--this is great for moving it around the house or taking it on road trips.  And one of the most favored features is the armrests for the feeder to rest their arms on which alleviates the strain from your neck, back, and arms! So not only do your twins dine comfortably, so do you!  
RECOMMENDED AGE 
Table for Two is truly a lifesaver for parents of twins and designed for the bottle-feeding (and spoon-feeding) stage which is birth to 12 months old.  We do offer a preemie/newborn insert that is listed under products that really helps to snuggle them in when they are preemies/newborns.
Table for Two makes the hardest part of twins (feeding times!) the easiest and most stress-free time of your day! You will get such great use out of it at every feeding (and lounging) time for the first year. However, you can definitely still use it past one year.  After the first year, Table for Two will become your toddlers' favorite double lounger! Great for watching cartoons, eating snacks, etc! 
Don't forget to check out our full line of accessories custom made for Table for Two!
Table for Two is a must-have product for all parents of twins!  
The patented foam design features a perfected angle for bottle feeding, while the safety harness holds the babies securely in place.
Accessories: Table for Two offers a complete line of stylish and trendy fabrics to compliment your nursery or home
Measurements: Table for Two measures approximately 38" long, 22" wide, and 12" high
Weight: Weighing 13 pounds, Table for Two was designed for safety and sturdiness
Materials: The main base is constructed of 100% high density polyeurethane foam, the cover is made from 100% water resistant polyester, and the inserts are made from 100% cotton